We carved pumpkins yesterday and the kids are so excited to roast the seeds later today
following this yummy recipe
. We can't wait to enjoy them, along with a cup of hot chocolate - even though it still feels like Summer here to us. ;)
I did a before and after shot like this with the kids and their pumpkins last year and I loved it so much, I decided to make it a new tradition! So many special memories are tied to the family traditions we've made surrounding each holiday.
As we carved pumpkins together, it was so fun to hear the kids reminiscing about events from Halloweens past. Remembering what they dressed up as, how the pumpkin seeds tasted last time we roasted them and comparing the best houses they'd ever trick or treated at.
Carving pumpkins is one thing my kids look forward to most at Halloween, besides the trick or treating of course! If you celebrate the holiday, what memorable Halloween traditions do you have in your family? I'd love to hear in the comments! :)
Now it's your turn to share what simple moments you've been celebrating this week!
Join Stacy of KSW and I for Simple things Sunday! You can share your photos on both of our blogs using the linky tool below or join us on instagram
using hashtag
#SimpleThingsSunday
.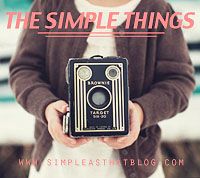 If you're new to Simple as That I'd love for you join us in this weekly tradition!
What is Simple things Sunday?
This weekly photo share is all about
taking time to photograph the everyday details that make your life unique, beautiful, and special. Each Sunday we gather here to share our photos with each other. To enjoy the beauty that can be found in the ordinary and to be reminded of just how important the simple things are.
Just a few quick rules to play:
1. Grab a Simple things Sunday button and include it in your simple things post.
2. Link back directly to your simple things post not your blog/website.
No links to other linky parties, giveaways or craft projects pretty please.
This linky is all about the photos.
3. Be sure to pop by and visit at least 3 other links and leave a comment.
Leave as many as you can.