We spent some time exploring a local corn maze one night this week and the kids thought it was the best thing ever! They'd never been through one before, so it was an exciting first for them.
It was such a gorgeous night. We're not used to this warm Fall weather and we've been enjoying it so much! I think one of the things we get asked the most, when people find out we've just moved from Canada to Arizona, is how we're liking the heat. I'm not going to lie, the Summer was pretty intense, but after living on the island for a year and a half we've come to really crave the sunshine.
It's amazing how quickly we've become accustomed to the climate here. In fact, during Fall break the temperatures dipped down to about 26 degrees C (78 F) and I had four little frozen kiddos shivering at the pool! These Canadians have gone soft I'm afraid! ;)
Here's to celebrating Fall, family time and of course, photos. :)
Now it's your turn, what simple moments did you capture this week?
Join Stacy of KSW and I for Simple things Sunday! You can share your photos on both of our blogs using the linky tool below or join us on instagram
using hashtag
#SimpleThingsSunday
.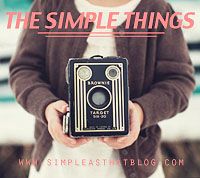 If you're new to Simple as That I'd love for you join us in this weekly tradition!
What is Simple things Sunday?
This weekly photo share is all about
taking time to photograph the everyday details that make your life unique, beautiful, and special. Each Sunday we gather here to share our photos with each other. To enjoy the beauty that can be found in the ordinary and to be reminded of just how important the simple things are.
Just a few quick rules to play:
1. Grab a Simple things Sunday button and include it in your simple things post.
2. Link back directly to your simple things post not your blog/website.
No links to other linky parties, giveaways or craft projects pretty please.
This linky is all about the photos.
3. Be sure to pop by and visit at least 3 other links and leave a comment.
Leave as many as you can.