We spent some time camping in the Tonto National Forest this weekend with
our church
group. The kids had been looking forward to this trip for weeks and were so excited to break in
the new tent
. It got a little chilly at night -
in AZ, who would have guessed
- but other than that it was such a fun trip.
Addie was the official fire wood gatherer and she did such a great job!
Roasting marshmallows, cooking over a campfire, shooting BB guns, exploring nature and getting absolutely filthy! That's what camping is all about and you better believe we did all of the above!
We love camping and spending time outdoors as a family and we look forward to many more adventures to come as we explore the beautiful State of Arizona. You can follow our family adventures on instagram + facebook using hashtag
#outdoorfamilyadventures
and see some of the
fun we've had in the past right here
. Tag your photos too - we'd love to see how you're enjoying the great outdoors as a family!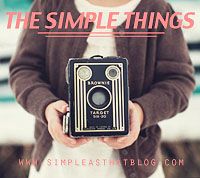 Now it's your turn to share what simple moments you've been celebrating this week!
Join Stacy of KSW and I for Simple things Sunday! You can share your photos on both of our blogs using the linky tool below or join us on instagram
using hashtag
#SimpleThingsSunday
.
What is Simple things Sunday?
This weekly photo share is all about
taking time to photograph the everyday details that make your life unique, beautiful, and special. Each Sunday we gather here to share our photos with each other. To enjoy the beauty that can be found in the ordinary and to be reminded of just how important the simple things are.
Just a few quick rules to play:
1. Grab a Simple things Sunday button and include it in your simple things post.
2. Link back directly to your simple things post not your blog/website.
No links to other linky parties, giveaways or craft projects pretty please.
This linky is all about the photos.
3. Be sure to pop by and visit at least 3 other links and leave a comment.
Leave as many as you can.