It's been a crazy couple of weeks around here as I've been finishing up that project I've been talking about. We also spent a fun weekend with family at the West Edmonton mall and have been enjoying lots more time with family this Easter weekend. I feel like things are finally starting to settle down and return to normal. :)
Each week I try to feature some of your awesome photos from the Simple things Sunday link party and I've been hit or miss the last couple weeks....I'm so sorry about that! So today I'm playing catch up and featuring photos from this week and last weeks simple things parties!
A huge thank you to each and everyone of you who link up your photos each week! They inspire and encourage everyone to stop and take notice of the simple things in life and I am continually amazed at the talent that is shared here every week! :)
quiet ride | 14 fir street
willows | dancing aspens farm
colourful eggs | heather
hello | swenja
. . . . . . . . . . . . . . . . . . . . . . . . . . . . . . .
If you've had a photo featured on the blog or on my
facebook page
this week
be sure to grab a featured button below! :)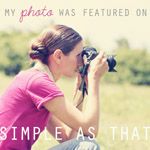 . . . . . . . . . . . . . . . . . . . . . . . . . . . . . . .
Instead of a photo tip for you this week, I have some exciting news to share!
Did you know that May is National Photography month?
To coincide with this exciting photography celebration I will be releasing a brand new eBook published by Ella Publishing Co. entitled:
Real. Life. Photography.
I'll be sharing more info with you as it becomes

available, but some of the topic
s that
I'll be covering in this book include:
Photographing in REAL light.
Photographing your REAL life.
Capturing REAL relationships.
Tips for enhancing your REAL photos.
and so much more!
I'm so excited about this new release! This book includes a lot of practical photo tips suitable for real life photography. Photographing everyday events presents a unique set of challenges and in this book I discuss the strategies I use to photograph my own family and our everyday life.
Check out my other eBooks from Ella Publishing:
Don't Say Cheese! How to get great, natural photos of your kids
and
40 Top Tips for Better Photos
:)