Its been a bit of an icky week around here with the flu making its way through the house. It hasn't been that enjoyable, but the extra snuggles definitely have been and Emily helping out when I needed her was such a sweet thing to see. :)
. . . . . . . . . . . . . . . . . . . . . . . . . . . . . .
This party is all about celebrating the simple moments and simple joys that make you smile each week. So grab that camera, snap a photo or two and come share with us each Sunday!
Just a few quick rules to play:
please, please, please read the rules carefully
2.
Link back directly to your simple things post not your blog/website.
No links to other linky parties, giveaways or craft projects pretty please.
This linky is all about the photos.
3.
Be sure to pop by and visit at least 3 other links and leave a comment.
Leave as many as you can. :)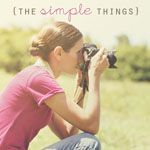 I can't wait to see your photos this week everyone! I'll be featuring some of my favs on the blog + Facebook throughout the week so stay tuned! If you were featured last week be sure to grab yourself a featured button!
Also, please remember to stop by as many of the other links as you can each week and leave lots of comments! Comments are the funnest. Everybody likes 'em, so be as generous as you can with the comment love. Thanks a bunch!

. . . . . . . . . . . . . . . . . . . . . . . . . . . . . .
Please welcome another of our fabulous sponsors
Stylish Beach Bum
.
Gina, a Southern California native, is the creative talent behind
Stylish Beach Bum
and she makes comfortable, beautiful and affordable camera straps.
Visit Stylish Beach Bum where you can view all the styles Gina has available along with information about her coordinating lens bags!
shop | blog | twitter