I'm loving all the photos linked up this week for
{Simple things Sunday}
you guys!!
I'm leaving the linky open until tomorrow night so feel free to add your photos if you have one to share.
In the meantime, check out these gorgeous photos that caught my eye this week...
Thanks for linking up everyone! I really enjoyed stopping by each one of your blogs and celebrating the simple things with you this week!
. . . . . . . . . . . . . . . . . . . . . . . . . . . . . . .
I'm hoping to share a few gorgeous photos from the weekly linkup on Facebook + the blog this year so watch for your photos to be featured! So if you've been featured this week on the blog or on my
facebook page
grab a featured button below! :)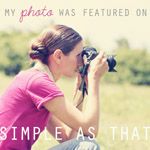 Along with my weekly Simple Things roundup I'll also be sharing a quick and simple photo tip or idea. It might just be a link to a great how-to I came across online, an easy photoshop trick or some other little tidbit. I really want to share a few more photo tips on the blog throughout 2012 and I thought this would be a fun way to do it!
THIS WEEKS QUICK PHOTO TIP:
When it comes to capturing everyday photos it can be tricky to capture moments as they happen if you aren't ready for them. At our house the kids aren't always getting along perfectly and my toddler is rarely in one place for longer than 30 seconds, so when there is a moment of sibling bliss or baby girl is engrossed in an activity, I want to be able to access my camera as quickly as I can to capture these moments before they're gone.
Consider where in your home the most activity takes place - for me its the kitchen - and find a spot close by where you can store your camera safely and you can grab it fast. I used to keep mine in a cupboard in the kitchen where little hands couldn't reach it. When your camera is easily accessible you'll find you bring it out more often to take photos and are able to capture more of those everyday moments simply because you're ready for them. :)
If you've started on Project 365 this year or are joining in the
Month-in-Photos project
with me be sure and check out my downloadable
Everyday Photos Checklist
. It's jam packed with 50 photo ideas and photography prompts to help you capture those simple, everyday moments!