I started this little project about a month ago and I'm enjoying it so much!
I can already tell I will treasure this collection of photos, but the weekly reminder to focus on the simple joys that surround me each day has been an unexpected (but oh so wonderful) little perk to this project.
Feel like joining me in this weekly photo challenge?
All you need to do is....
1.
Take a photo of one of the simple things or simple moments in your life that made you smile this week.
2.
Post your photo somewhere online (your own blog, facebook, flickr....wherever you'd like.)
3.
Grab a button and include it in your post if possible (simply copy and paste the html code below.)
4.
Come back here and share your photo with us by joining in the weekly link list each Sunday.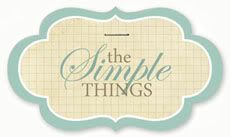 I can't wait to see what you recorded this week!
See you Monday!
:)