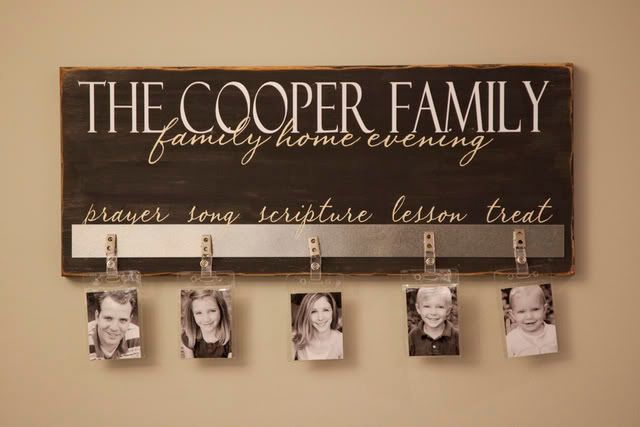 I've had several emails about my
Family Home Evening
chart so I thought I'd post a closeup picture along with some instructions on how I made it for anyone who is interested. We made these at our "Wonderful Wednesday"
Enrichment
meeting in November and I really like how they turned out. They were so easy to put together and believe me when I say that because I'm not real crafty with the wood projects and even I was able to do this!
The board measures 24 inches wide X 10 inches tall and is painted black (with distressed edges/lots of sanding). We bought the sheet metal from a heating company and they cut it into 1.5 " X 23 " inch strips for us which we attached along the bottom of the board using PL 400 adhesive. Then all we did was attach the vinyl lettering we had ordered to the chart. The tags are simply name badge holders that we bought at walmart and we glued a magnet to the back of the metal closure using wood glue so they attach to the metal strip on the chart. Simply add your own pictures and you're good to go.